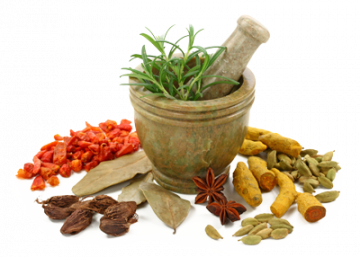 Hari Om all
Autumn greetings!   Firstly, just a note to remind everyone who comes to my classes that I'm not teaching this week.  Normal service will resume on Monday October 24th.  Allegedly I'm spending time de-cluttering and tidying, but time alone will tell......
I hope you all enjoyed the "Indian summer" in September but colder, wetter weather has definitely set in now, with the shortening days.  Autumn is of course the transition between summer and winter, but a season in its own right, a "season of mists and mellow fruitfulness" but also gusts and gales to bring the leaves down efficiently.  
My way of greeting autumn weather is to embark on an Ayurvedic cleansing programme.  They are typically done in Spring and Autumn. It's going to change my eating habits quite markedly for two weeks, with herbs, lots of water, and no between meal snacks.  Wish me luck!    Some of you will know I'm involved in teaching yoga and pranayama to students on the "Introduction to Ayurveda" course.  I've been studying with Elizabeth Roberts, an Ayurvedic practitioner who devised the course, since 2010 and, although completely different in its approach to the Western allopathic medicine I practised for over 42 years, I'm appreciating the ancient wisdom of living in harmony with the ebb and flow of nature's cycles and one's own constitution.  
But what is Ayurveda, and why is it relevant to Yoga?  Who better to explain it than David Frawley, a prolific author of books on yoga and Ayurveda.  We used a quote from him in our Prospectus:
.     "Ayurveda is the Vedic science of healing for both body and mind.  Yoga is the Vedic science of self-realisation that depends on a well-functioning body and mind… The foundation of Yoga should be Ayurveda and the fruits of Ayurveda, Yoga".  (David Frawley). 
Perhaps more simply put, Ayurveda and Yoga are described as sister sciences, or even different aspects of the same science.  They work together.   Ayurveda tells us how to live a healthy lifestyle, with attention to proper food, exercise - including but not restricted to yoga asanas - and rest, according to one's own constitution.  Yoga began not as some kind of workout but as a philosophy of living, a path of personal and spiritual development, seeking inner peace, harmony and freedom.  Yoga practices should ideally be tailored to our constitution, the time of day, the season and so on.  By the way, if you're finding in your home practice that balance poses are a struggle at present, that's actually to be expected in the autumn season.  So no need to worry about it.
Looking forward to seeing you all back at class next week.